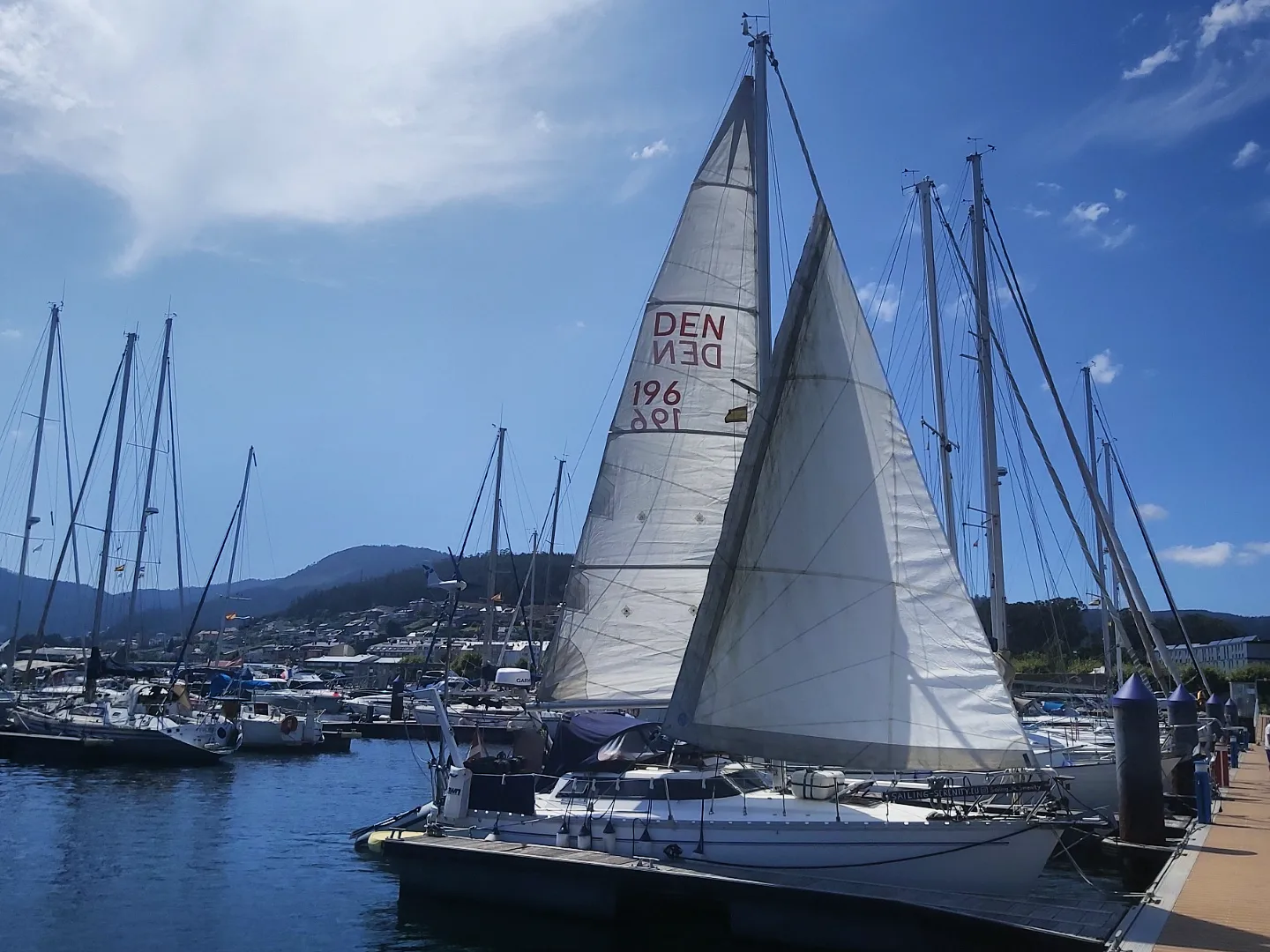 What do you have to do when you want to go sailing? Start the engine, cast the lines and off you go! As a liveaboard boat that has not sailed for over a year, the story becomes a little more exhaustive.
My plan for the upcoming week is to sail further and getting my anchoring game up to speed. Thus I'd like to go out and explore the bays and beaches around the north-west of Spain until I find a suitable place to stay for the winter. Right now two places started to regularly pop up in my head. The southern coast of Portugal, called the Algarve, or the small island of Madeira. Both should be quite suitable and reasonably cheap to stay for a while. Not to mention the mild climate. Anyhow, back to getting Serenity in shape.
First come the repairs. On older boats, there is always something breaking or has been broken for a while and you just ignore the faulty parts until you can't. As I am planning to anchor a lot, the first thing I had to fix was my depth sounder. That handy little device that shows me how much water I have under my boat at any given time. That seems like a good thing to have when sailing towards a beach on the hunt for the perfect anchorage. 
Mine however was toast as I accidentally cut the wrong cable in an otherwise very responsible and well thought through DIY job. That happened 2 years ago but now I finally decided to fix it. A tightly wired broken coaxial cable is fixed by adding a few extra meters of cable and purpose built coax-connectors and I was lucky enough that the local Expert store had the right parts at hand. 7 Euro and 10 Minutes later my depth sounder came alive again. 
The next thing on my list was engine maintenance. My starter battery was dead and had to be replaced, oil had to be topped off. But this was expected and surprisingly, there was not much else to repair, just to follow through. Test the autopilot, chart plotter, radio, windlass, navigation lights and that's it. So since I do not have to order any more spare parts, I could focus on other things.
Like painting my anchor chain in a fresh zebra pattern. Not all of it of course, but for me to know how much chain I already let out, I color coded the chain at 5,10,15,20 and 30 of 40 meters. Combined with the information on my depth sounder, I always know exactly how much chain I should put out to safely spend days at the beach as there is the rule of thumb to put out 3 to 5 times the depth in lenghts of chain. So I guess I'm good to go.
Now to the big task at hand. Oh boy do I not want to do any of it. But well, chores are chores and not funsies, so I do a little bit every day until I leave. Airing out the sails and cleaning them a bit was certainly the most fun becoming a true pontoon sailor! But uh, some of the dirt in those sails is very stubborn and won't go away. I think sooner or later Serenity will turn into some Black Sails pirate ship on it's own…
Good planning is everything, and knowing that fresh water is sparse and hard to get while at anchor in some remote bay, I had and still am making a lot of laundry. One bucket every day as long as I have access to fresh water on the pontoon. Also every pot, glas and pan will get a fresh scrub. You see, getting a liveaboard boat into sailing shape is no easy feat and it takes much longer than just hopping into your weekender or daycruiser and blasting off.
The very last thing to do however is properly storing everything I have taken out of underseat lockers and boxes over the last year. The cockpit table has to disappear and all utilities have to find a proper place where they cannot gain enough inertia to fly through the whole boat as soon as a wave hits the bow. 
Anyway, I am jappering already way too long for basically just saying that I currently have quite some boat related things to do. Maybe it's my way to justify my prolonged stay as I actually already wanted to leave last week.
But maybe it also helps you to paint a little picture so you know that there is a wee bit more to it when you plan to move around with your own boat or van.